ACQUISITIONS
Acquisitions 2021
Growth at AddLife is achieved in part through corporate acquisitions, which are an important component of AddLife's strategy. We are constantly looking for interesting companies to acquire and further develop in the long term. AddLife is an active owner and an attractive alternative for those who want to sell their companies.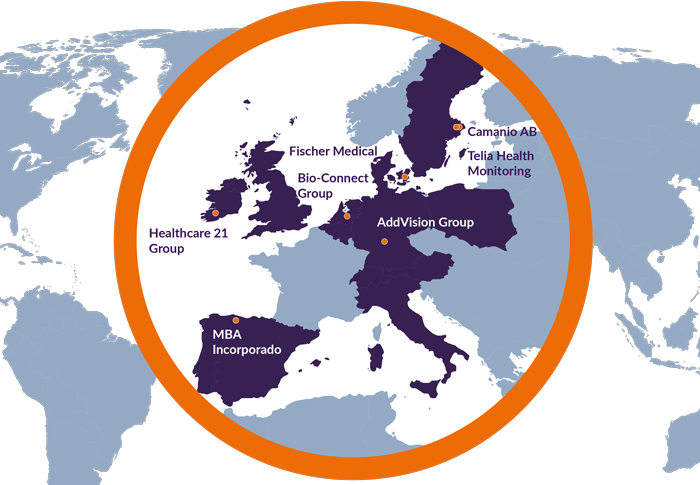 We are constantly searching for interesting new companies that can strengthen our existing operations and want to grow with us. New companies provide a presence in new markets, complement existing product and service offerings and, perhaps most importantly, add talented employees with a strong understanding of business acumen and their area of operation.
Over the years AddLife has acquired many companies and we have a successful process for integration and development of acquired companies. We supply financial stability, resources and tools that make it easier and more efficient to run the business.
We are looking for profitable companies with growth potential, a high level of knowledge and technological content, and well-established supplier relationships or strong brands within selected niches. The companies usually continue under their own brands, but are integrated into AddLife's corporate culture and financial governance model. The companies are further developed through active and committed ownership to promote sustainable growth. Our corporate culture is based on value-governed leadership with extensive freedom, a high degree of self-determination and personal responsibility. Within the group we actively work in networks that provide opportunities to share experiences between the companies. Our business school, AddLife Academy, offers all employees various types of skill development.
Acquisitions during the year
In 2021, AddLife completed seven acquisitions, two of which were completed after the end of the fiscal year. The acquisitions are expected to add about SEK 3,300 million to annual sales, along with about 1,000 employees.
AddVision Group
In April all shares were acquired in AddVision Group, formerly Vision Ophthalmology Group, a leading European distributor and product manufacturer and service provider in ophthalmology and eye surgery, with operations in Switzerland, Germany, the UK and Poland. The acquisition is strategically important and adds a new therapeutic area to AddLife's product portfolio. Ophthalmology is an attractive global growth market that is driven by technological development, as well as a growing, ageing population with chronic diseases. The company has a turnover of approximately SEK 700 million and around 190 employees. The company is included in the Medtech business area.
Healthcare 21 Group
The acquisition of Healthcare 21 Group, HC21, in April, was a strategic milestone that established AddLife in Ireland and the UK. HC21 is a leading, independent distributor that offers high-quality products and adds value with clinical expertise and service to public and private customers. The acquisition is in line with AddLife's strategy of expanding in relevant niches in Europe. HC21 gives us access to an attractive customer base in clinical segments where we have a high level of expertise. HC21 conducts business in 15 therapeutic segments, with 50 percent of sales relating to products for emergency care, primary and homecare, diagnostics, surgery and service. The group has long supplier relationships with manufacturers of renowned brands, with 95 percent of the agreements being exclusive.
The corporate culture of HC21 is similar to AddLife, with a strong entrepreneurial spirit and a decentralised, customer-oriented responsibility for the business, combined with shared, strategic functions such as finance and support. HC21 has a turnover of approximately SEK 1,700 million and 450 employees. The group is included in the Medtech business area.
Bio-Connect Group
In September, all shares were acquired in Bio-Connect Group, operating in Benelux. Bio-Connect markets a wide-ranging portfolio of leading brands from mainly research-oriented suppliers in Life Science, diagnostics, pharmaceutical and veterinary. In addition, the company is a full-service provider to key customers for niche products for research and reagents for diagnostics. The customers are mainly university and hospital laboratories as well as privately and publicly funded research organisations. Bio-Connect has a turnover of approximately EUR 140 million and 31 employees in the Netherlands and Belgium. The company is included in the Labtech business area.
Fischer Medical
In November, all shares were acquired in Danish Fischer Medical, specialising in advanced surgery and representing renowned suppliers from around the world. The company is a distributor of instruments and implants for orthopaedic surgery and gynaecology. With its service focus and high level of product expertise, it is a natural fit for AddLife. Fischer Medical has sales of approximately SEK 60 million and 12 employees. The business operates with its own sales force in Denmark and Sweden with additional sales in Norway and Finland. The company is included in the Medtech business area.
Camanio
In December, all shares were acquired in Camanio, a Swedish provider of digital healthcare and social care, focusing on individualised care at home. Camanio develops and operates an innovative digital healthcare platform and related services. The platform connects the patient, relatives and healthcare professionals based on the individual's needs. The acquisition marks an important stage in AddLife's development in the field of digitalised services. The company had sales of approximately SEK 13 million in 2020 and has 18 employees. The company is included in the Medtech business area.
MBA Incorporado
An agreement was signed in December to acquire all shares in MBA, a leading Spanish player in orthopaedics and traumatology. The acquisition of MBA strengthens AddLife's position in advanced surgery and is in line with its strategy of expanding into relevant niches in Europe. MBA offers high-quality products, and adds value for the customer with its high level of clinical expertise and service to public and private customers. The company has operations in Spain, Portugal and Italy. MBA has a strong position among regional and local hospitals, where service and support are competitive advantages. MBA's corporate culture is characterised by an entrepreneurial spirit and a strong customer focus. MBA has sales of approximately SEK 670 million and 285 employees. The acquisition was completed in January 2022. The company is included in the Medtech business area.
Telia Health Monitoring
In December a contract was signed for the acquisition of the business from Telia Health Monitoring, which develops and provides a digital platform that enables self-monitoring by patients with chronic diseases. The acquisition reinforces AddLife's strategy to be a driving force in the development of digital healthcare and social care. The business has a turnover of SEK 4 million, and its seven employees will be integrated into Camanio. The acquisition was finalised on 1 March 2022. The company is included in the Medtech business area.
Acquisitions
Country
Time
Net Sales, SEKm*
Number of employees*
Business area
AddVision (Vision

Ophthalmology

Group GmbH)
Germany
April
700
190
Medtech
Healthcare 21 Group
Irland
April
1,700
450
Medtech
Bio-Connect Group
Netherlands
September
140
31
Labtech
Fischer Medical ApS
Denmark
November
60
12
Medtech
Camanio AB
Sweden
December
13
18
Medtech
2,613
701
Acquisitions accessed after the end of the financial year
Country
Time
Net Sales, SEKm*
Number of employees*
Business area
MBA Incorporado S.L
Spain
January
670
285
Medtech
Verksamhet från Telia Health Monitoring
Sweden
March
4
7
Medtech
674
292

* Refers to conditions at the time of acquisition on a full-year basis.

Latest updated: 3/29/2022 2:31:39 PM by jamilah.wass@add.life