Sustainability

Responsible producer and distributor
Sustainability efforts are ongoing throughout the entire product supply chain, both for our own products and through close cooperation with suppliers.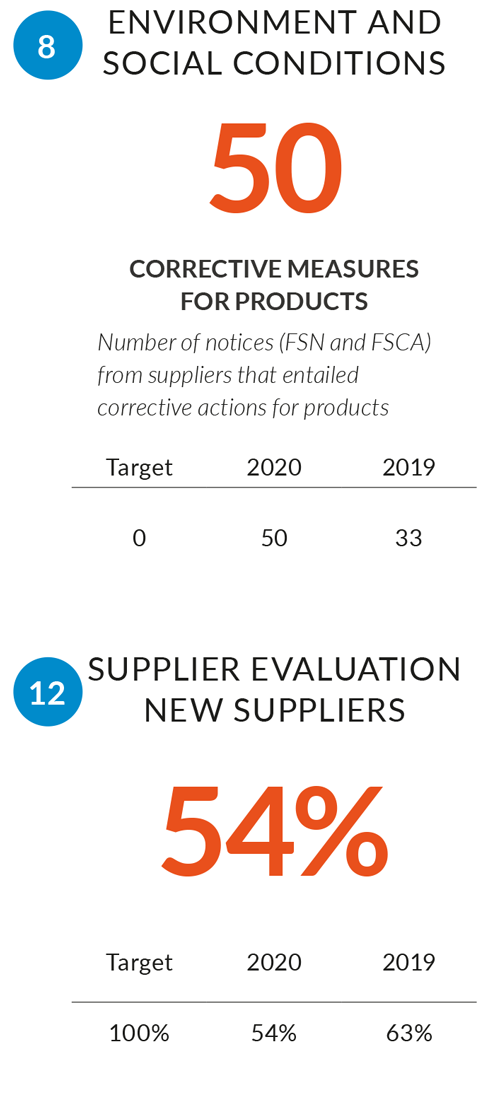 The majority of AddLife's product range is produced by leading suppliers around the world. As a distributor, we mainly have an indirect impact on matters such as choice of materials, raw materials, packaging and terms of employment. AddLife aims to work closely with the suppliers to achieve long-term and sustainable development. The goal is for all suppliers to live up to AddLife's code of conduct and environmental policy. Moreover, AddLife requires suppliers to respect fundamental human rights and to treat employees in accordance with the ILO declaration on fundamental principles and rights at work.
Products must be CE-certified before they can be marketed in Europe.
New EU directives will be implemented in 2021 for medical devices, MDR and 2022 for in vitro diagnostics products, IVDR. For some products, this may require renewed testing for CE-certification, which may be both expensive and challenging for small operators with limited resources and cause larger global players to opt out of smaller local markets.
Our subsidiaries continually work to assess new and existing suppliers, clarifying requirements regarding sustainability and the environment, to ensure that we live up to our responsibility as distributor. During the COVID-19 pandemic we identified new suppliers in Asia where our own quality procedures have ensured that the products have been CE-marked and meet regulatory requirements, while maintaining the quality standard that health care expect.
EXAMPLES OF ACTIVITIES COMPLETED DURING THE YEAR
Competitive procurement process for suppliers of shipping
services, aimed at reducing costs and environmental impact
OUTLOOK FOR 2021
Develop the process for evaluation and approval of new suppliers
Geographic mapping of supplier chain
Updated green car policy
| | |
| --- | --- |
| Risk/description | Management |
| Product lifecycle management |   |
| Customers set requirements for material choices, transport methods and packaging. If the products do not meet customer requirements when a tender is followed up, there is a risk of losing the contract. | The subsidiaries have procedures in their production regarding informed choices of raw materials, packaging and transport methods. Similar requirements are placed on suppliers' products. AddLife's subsidiaries apply recycling procedures. Through support and maintenance of instruments, AddLife helps to maximise their life span. Contaminated products and instruments are destroyed by the customer. |
| Product safety |   |
| Product risk mainly consists of incorrect results from an instrument, or incorrect handling of a product, which could result in injury to patients or staff. | Systems for monitoring products ensure reporting to customers, suppliers and authorities, which in turn entail corrective measures. Relevant product information to prevent risks from reaching the customer, through a system of Field Safety Notices, FSN and Field Safety Corrective Actions, FSCA. |
| Production and supply chain management |   |
| Risk that products that are not CE-marked will come on the market, or that a supplier does not comply with AddLife's code of conduct. | Supplier evaluations are performed before a new supplier is approved. These evaluations ensure that the supplier complies with AddLife's code of conduct or applies its own equivalent code. Supplier evaluations are performed on an ongoing basis to ensure sustainable production. |
Latest updated: 11/23/2021 11:42:23 AM by Administrator