Sustainability
Governance
As a signatory to the UN's Global Compact, we actively support human rights and conduct our business in a manner that is socially responsible and consistent with the principles of the Global Compact, the International Bill of Human Rights, the ILO's Core Conventions and the OECD's Guidelines for Multinational Enterprises.
AddLife is less exposed to direct non-financial risks in product development and production because of the low percentage of in-house manufacturing. However, the group faces risks when it comes to managing suppliers' purchases and their operations. We also have certain responsibility for the products sold on the market. When it comes to environmental risks, our direct impact is limited upstream and managed through dialogue, influence and choice of suppliers. Logistics is a priority area for future assessment of indirect impact.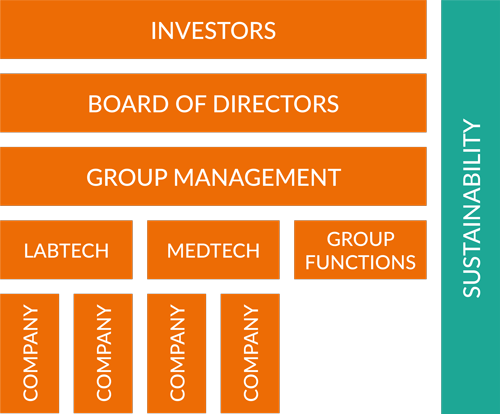 AddLife has a common group strategy for governance through our values and culture.
Our business model encourages a mixed model of central and local management of sustainability risks and opportunities, often by policies and management systems where effectiveness is monitored through different activities.
Each subsidiary is responsible for its own business activities within the context of the requirements for growth, profitability and sustainable development as set by the Group. Our decentralized model, which is part of our DNA, also entails complexity. Local responsibility and entrepreneurship, combined with a wide range of company sizes makes it challenging to have a "one size fits all" model. Thus, rather than having an independent sustainability function, our sustainability approach is integrated across the different group elements and requires to be adapted case-by-case.
Our operations are subject to external review and monitoring by the Swedish Financial Supervisory Authority and Nasdaq Stockholm.
Focus area

Target

Risk covered

Policy &
management systems
Monitoring
effectiveness
Environmental risks
in operations
Sustainable
solutions
- Emissions
- Hazardous waste
- Packaging
- Local environmental
policies
- Local sustainability
strategies
- Green car policy
- ISO 14001 (52%
of operational companies)
- Central sustainability
report system

Product safety

Sustainable
solutions
-Incorrect
instrument results
- Incorrect product
use, impacting patient or
professionals health
- Incorrect or lack
of required product
certifications
- ISO 9001
- ISO 13485
87% of operating
companies have one or both
- Certifications
(CE, MDD/

MDR

, IVDD/IVDR)
- System of Field Safety
Notices
- Field Safety Corrective
Actions
- Whistleblower function

Product lifecycle

Sustainable
solutions
- Single-use products
- Waste
- Premature disposal of
instruments and products
- Instrument maintenance
extends product life span
- Local reuse and
recycling procedures
-Local refurbishment business
n/a

Occupational health and safety

Sustainable
culture
- Employee health, safety
and well-being
- Workplace accidents
- Psycho-social work
environment
- ISO 45001
- Occupational health
and safety procedures
- Evaluation of risks
- Annual employee survey
- External audits
- Whistleblower function

Talent management

Sustainable
culture
- Recruitment and
retention
- Incentive programs
- Annual appraisal meeting
(73% of all employees)
- AddLife Academy
- Annual employee survey
- Central representation
in subsidiary boards
Ethical business
practices
Sustainable
culture
- Human and labor rights
- Discrimination
- Corruption and bribery
- Third-party misconduct
- Export controls/
Trade sanctions

- Code of Conduct
- Supplier and customer
agreements
- Insider trading policy
- Local policies and regulations
- Insider log
- Whistleblower function
- Supplier evaluations
- External audits
- Central review: Companies'
internal control
- M&A: DD and target
background check

Long-term growth

Sustainable
growth
- Short term focus
overrules strategy,
vision and long-term
profitability
- Dividend policy
- Company target
processes
- Sustainability report
- Materiality assessment
and stakeholder
dialogue
Latest updated: 3/30/2023 11:15:26 AM by jamilah.wass@add.life