MARKET
Well positioned for the market situation post pandemic
AddLife is a leading player in Life Science, well positioned for the market situation after the pandemic and with a strong presence in Europe.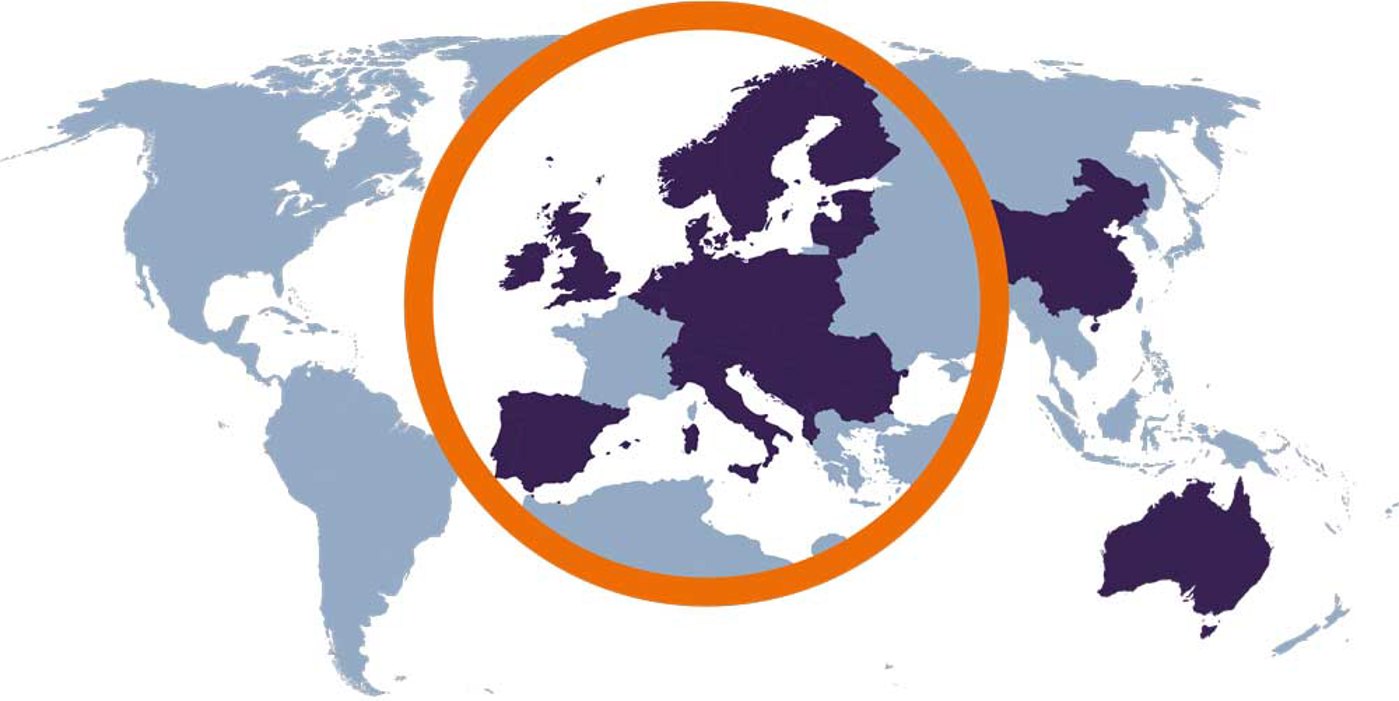 The European expansion strengthens both new and existing supplier relationships, as well as creating a larger internal network with increased opportunities to sell both own and distributed products in new markets. Sales in markets outside the Nordic region accounted for 61 percent of net sales in 2022, compared to 51 percent the previous year.
| | |
| --- | --- |
| Dynamisk graf: Net sales per market 2022 | Dynamisk graf: Net sales per market 2021 |

During the COVID-19 pandemic, interest in diagnostics and virus research increased, resulting in continued high turnover within the Labtech business area during the first quarter. However, within the Medtech business area, the pandemic has resulted in canceled surgeries, limited access to customers, and less opportunities for testing and installing products within home care.
Dynamisk graf: Covid-19 related net sales
Throughout the COVID-19 pandemic, AddLife has supplied large volumes of products to the healthcare sector for management of COVID-19. After the first quarter of 2022, the market has entered a new phase as the effects of the pandemic gradually diminished.
Market overview
According to Medtech Europe¹, the European Medtech market amounts to approximately EUR 150 billion, which corresponds to the potential market for AddLife's entire Medtech business area and parts of the Labtech business area (IVD diagnostics). Over the past 10 years, this market has grown annually by just over 5 percent, and the five largest markets are Germany, France, the UK, Italy, and Spain. It is a fragmented market with around 34,000 medical technology companies, of which 95 percent are small and medium-sized enterprises. Large international players and sometimes smaller niche companies often sell products under their own brands and control the entire chain from manufacturing to distribution. The market also includes independent distributors who, like AddLife, offer products from several manufacturers.
In Europe, an average of 11 percent of GDP per country is spent on healthcare. Just under 8 percent of the total healthcare costs are allocated to medical technology products. A common feature of AddLife's markets is that both healthcare and academic research are largely financed with public funds. This means that a significant proportion of the business is conducted through public procurement. In many markets, public procurements are becoming larger in scope, often with long contract periods. Today, there is also a trend from price-based evaluation to models where sustainability as well as quality of service and support become increasingly important for the customer.
Healthcare is normally a high priority even in tougher times, and demand is therefore stable regardless of the economic situation.
A post pandemic market 
During the first quarter of 2022, healthcare was affected by another pandemic wave, but for the rest of the year, the effects of the pandemic subsided and healthcare returned to a more normal operation.
For AddLife, a significant portion of demand has therefore shifted from COVID-19-related products to products for elective surgery. During the latter part of 2022, we have seen a shift in healthcare systems and a return to more normal operations. AddLife's companies are well positioned for this market situation when the focus is on managing the healthcare waiting list for surgical procedures that has been built up during the pandemic and when staff shortages increase the demands for process and resource efficiency.
An example of resource-efficient and high-tech product areas is minimally invasive surgery (such as laparoscopic surgery, interventional radiology, endoscopy, or robotic surgery). Several of AddLife's companies operate in these areas and see an increased demand as planned surgeries resume.
There are clear focus areas for European healthcare systems in the new post pandemic market situation. AddLife is well positioned to meet these new needs for efficiency-enhancing products, services, digital solutions, and home care.
Five focus areas in the new market situation
1. Management of healthcare backlog
The healthcare waiting lists for sugical procedures or backlog has increased throughout Europe as a result of the pandemic. During the pandemic, the backlog has gradually accumulated, and a recovery is expected to occur gradually over several years.
The situation may vary between different countries, but the overall pattern of significant healthcare backlog and staff shortages is consistent. For example, in Spain, about 750,000 people² were on the waiting list for surgery in June of this year, which is an increase of over 12 percent compared to the same period in 2021. In December 2022, the NHS in the UK had a waiting list of over 7.2 million initiated cases waiting for care. This is one of the healthcare systems that has been most affected in terms of planned care, as can be seen in the following statistics regarding conducted investigations and treatments:
Procedures in United Kingdom
Second pandemic year (Mar 2021 - Feb 2022) vs 2019
First pandemic year (Mar 2020 - Feb 2021) vs 2019

Cardiac

(diagnostic)

-41%

-30%

Cardiac

(therapeutic)

-29%

-19%

Cataract

-43%

-1%

Gastrointestinal

endoscopy

(diagnostic)

-46%

-21%

Gastrointestinal

endoscopy

(therapeutic)

-41%

-7%

Hip and knee replacement

-65%

-27%
Source: OECD Health Systems Resilience Questionnaire 2022
Almost all countries within Europe have launched various initiatives to reduce healthcare backlogs. Examples of initiatives include increased funding for healthcare, hiring new healthcare personnel, extending work hours for existing staff, increased involvement of private healthcare providers, or expanding opportunities for digital healthcare visits.
2. Shortage of healthcare personnel
The shortage of healthcare personnel is significant throughout Europe and will affect the market for a long time to come. In September 2022, WHO Europe³ warned of a "ticking bomb" where 40 percent of doctors in one-third of the region are nearing retirement age. The pandemic has exacerbated the situation with overload and increased stress among healthcare personnel. In England, there were vacancies for about 40,000 nurses and 8,000 doctors in 2022. In the Netherlands, 61,000 open positions for healthcare personnel were reported⁴. WHO estimates that by 2030, there will be a shortage of 10 million healthcare workers globally⁵.
Investments in education as well as raising the status and compensation of healthcare personnel will likely need to be implemented. In addition, measures such as changing work practices, digitized healthcare, and new forms of collaboration with private healthcare providers and suppliers will be required.
3. Accelerated digitization
The pandemic has to some extent accelerated digitization in healthcare, particularly through digital healthcare visits, but the need for improved systems and faster analysis and decision-making has also been highlighted. There is now broader acceptance that digital technology must be part of the solution for managing healthcare, such as through connected patient monitoring, connected laboratory instruments, and web-based analytics services. Digitization also enables new ways of collecting, sharing, and analyzing data.
The EU is one of the driving forces in this shift, and the recovery package that has been launched focuses, among other things, on digitization in healthcare. In May 2022, the EU Commission presented the European Health Data Space (EHDS) initiative, perhaps one of the EU's most ambitious projects to date. The aim is to enable sharing of patient data between patients and healthcare systems across Europe and to create access for secondary use of data for research and developers in the region.
Digitization also affects healthcare providers' ways of purchasing and accessing services. Services such as education, user support, and product maintenance are therefore becoming increasingly important.
Remote patient monitoring, welfare technology, and digital solutions are some of the efficiency-enhancing areas where AddLife's companies support healthcare systems in a sustainable and resource-efficient manner.
4. Focus on supply chains
Uncertainty in supply chain has been a major challenge for healthcare during the year. This uncertainty is a result of component shortages, logistics disruptions, and the geopolitical situation. In this uncertain situation, AddLife's companies have proven to be reliable suppliers, which has strengthened customer relationships in many markets. Local presence with regional production or warehousing may become an increasingly important competitive advantage in the future.
AddLife's decentralized business model, which enables rapid mobility and adaptation, creates security and value for our customers.
5. Sustainability back in focus
Sustainability issues in the healthcare sector had to some extent taken a back seat during the pandemic, as the focus has primarily been on patient care and access to healthcare products. As the effects of the pandemic decrease, we are once again seeing an increase in interest in sustainability in healthcare. In 2022, we have seen several examples of tenders with sustainability criteria, and we predict that this will increase further in the future.
AddLife has launched an updated sustainability strategy in 2022 to gradually increase focus in this area and support all ongoing initiatives in the group, such as new material choices and circular business models.
Aging population
The proportion of elderly people in Europe, especially those over 80 years old, will dramatically increase. While they accounted for 5.9% of EU citizens in 2020, this group will represent 7.3% in 2030 and will have doubled by 2050, when one in ten EU citizens will be over 80 years old. This will also increase the proportion of people with multiple and chronic illnesses. Overall, a larger and older population is expected to result in an increased need for healthcare and care services.
Dynamisk graf: Share of EU citizens 80+
Source: The ageing report EU commission 2021
The area of home care is expected to grow as healthcare providers need to streamline their operations. Home care can include healthcare, diagnostics, and treatment in the home as well as various aids, housing adaptations, and monitoring. This gives the patient the opportunity to stay at home for longer, which is expected to improve their quality of life and be more cost-effective for the healthcare system. AddLife has a strong position in this area and is well prepared to continue supporting this societal development.
Growing field of
diagnostics
The diagnostics market is growing, driven by technological development, which enables more types of tests and makes test methods cheaper and easier to use. AddLife's companies deliver products as well as advice, service, and other services in this growing market. An example is personalized medicine, where individual tests identify a specific genetic marker to determine which medicine will be most effective for a patient. Another example is rapid tests for increasingly widespread antibiotic resistance.
In clinical chemistry, there is strong price pressure on standardized tests performed in central laboratories. At the same time, there is a decentralization of more patient-centered analyses, which often occur in a hospital department or primary care center, and where the need for rapid test results is crucial for further patient treatment. In the future, diagnostics will also be enabled through home monitoring, where the patient themselves take certain tests whose results are shared digitally with the healthcare provider. Patient-centered diagnostics is a priority area for AddLife's companies.
Bioprocessing is a growing market where AddLife's companies, among other things, deliver products for research and within process and quality control. In the future, there are opportunities to enter into dispensing solutions or GMP (Good Manufacturing Practice) produced enzymes for the growing production of mRNA vaccines.
Product and market requirements
There are several barriers to entry in the market, such as public procurement requirements, high product safety requirements, regulatory compliance, and surveillance. In Europe, medical devices are regulated by EU directives and regulations.
New EU regulations for medical devices, MDR, and for In Vitro Diagnostic Devices, IVDR, have been delayed. In the long run, we see that these will require renewed and more complex testing of CE certification for certain products, which can be both expensive and burdensome for small businesses with limited resources and lead to larger global players choosing to exclude smaller, local markets.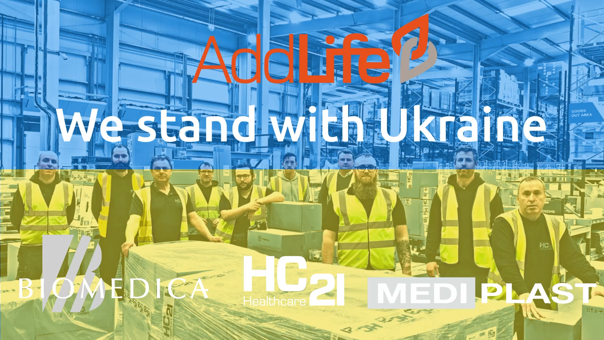 AddLife stands with Ukraine 
During 2022, AddLife donated critical medical devices to a market value of around SEK 7,5m to Ukraine. The first donation in beginning of March 2022 was made in coordination with the Ukraine embassy in Stockholm and Ukraine Ministry of Foreign Affairs. The second shipment, sent at the end of the year, was made in collaboration with the Swedish NGO OperationAid to a hospital in Kharkiv. Our ambition is to continue donating critical medical aid to Ukraine on a frequent and regular basis during 2023.

¹ https://www.medtecheurope.org/wp-content/uploads/2022/09/the-european-medical-technology-industry-in-figures-2022.pdf 
² https://www.epdata.es/datos/listas-espera-sanidad-publica/24/espana/106
³ https://www.who.int/europe/news/item/14-09-2022-ticking-timebomb--without-immediate-action--health-and-care-workforce-gaps-in-the-european-region-could-spell-disaster
⁴ https://www.hollandtimes.nl/2022-edition-8-october/healthcare-provision-under-pressure-from-staff-shortages/ 
⁵ https://www.who.int/news/item/02-06-2022-global-strategy-on-human-resources-for-health--workforce-2030 
Latest updated: 3/29/2023 10:04:39 PM by sophia.dernulf@add.life