BUSINESS AREA
Business area Medtech
In the Medtech business area, the subsidiaries offer products and services in the field of medical technology, as well as assistive equipment for use in homecare. Medtech's offering mainly focuses on public funded healthcare, homecare and social care in Europe.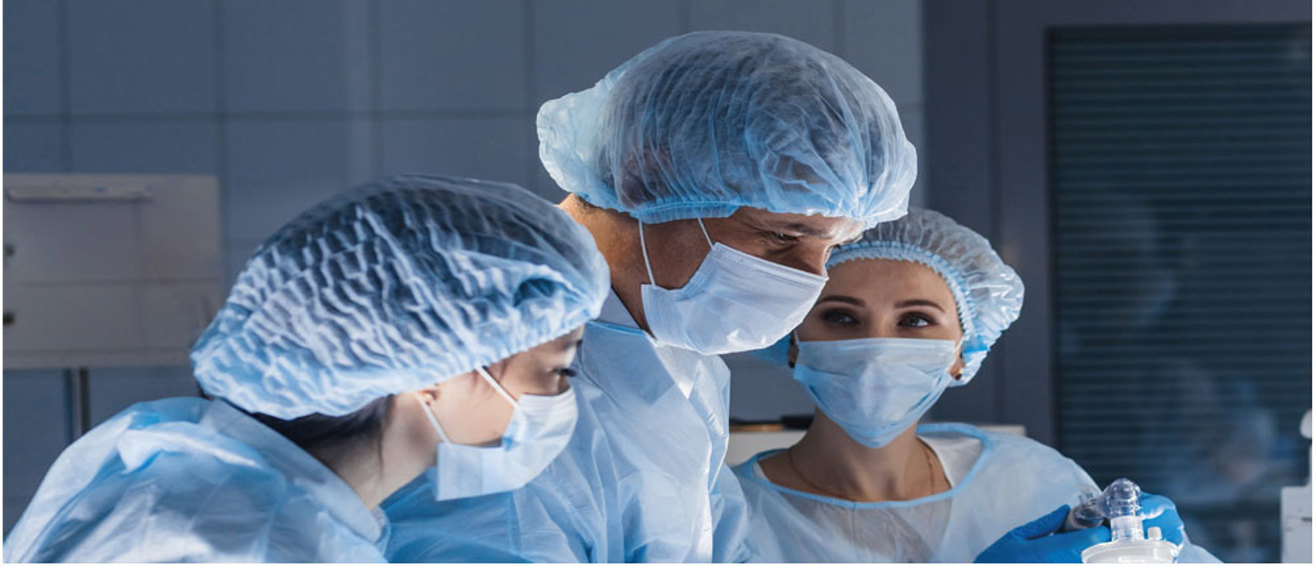 The subsidiaries within the Medtech business area operate through local knowledge and presence combined with the group's global reach. Today's healthcare is a national matter with global and common challenges, making the product and service needs largely equivalent regardless of the geographic market. The companies offer their own products, a wide range of products from other suppliers, as well as services such as education, support, and service. The product range spans from simple consumables to advanced instruments for surgical procedures, as well as welfare technology and aids for the elderly and persons with disabilities. Overall, the product offering requires solid medical knowledge to guide customers in the right direction. Sales are made through public procurement, accounting for approximately 90 percent of sales.
Dynamisk graf: Medtech net sales by market

MEDTECH IN FIGURES

Net sales: 5,210 SEKm
EBITA: 573 SEKm
EBITA margin: 11.0%
Employees: 1,433
Share of net sales: 57%
Market trend in 2022
During the beginning of the year, the Medtech industry was strongly affected by the pandemic, where the high infection rates resulted in a low number of surgeries and a growing backlog of patients waiting for surgical procedures. As the pandemic has decreased, activity within the business area has increased, although it has also been clear that healthcare systems have time for recovery. Growth within Medtech has primarily been driven by the acquisitions made over the past year, which has been a strategy to compensate for the decreased COVID-19 sales, primarily in Labtech. Organic growth, excluding COVID-19 sales, amounted to 2 percent for the full year 2022. Elective surgery activity has started to pick up during the fall, and we see increased demand primarily within orthopedics, respiration, and endoscopy, while ophthalmology and neurology have had a slower development. However, healthcare systems in large parts of Europe suffer from a shortage of personnel, which means that the waiting list for surgical procedures or backlog is still significant. A reduction in the backlog is expected to gradually occur over a longer period with a gradually increasing number of performed surgeries. Visitor restrictions have eased during the year, and customers have become more receptive to visits, which means that customer visits,product demos, seminars, trade shows, and marketing activities are now increasing. For our companies within home care, this means a greater opportunity to visit customers and users to test, customize and fit products, which is positive after more than two years of different restrictions in our markets.
Investments in the further development of digital solutions within home care have continued as planned during 2022 and impact profitability, corresponding to approximately one percentage point of the EBITA margin in Medtech. The digital solutions are now in an early commercial phase and are being implemented in several regions and municipalities in Sweden, while plans for international expansion are being formulated. Sales development was good within home care and is expected to continue to develop positively driven by a need to free up hospital beds, streamline the interaction between patients and healthcare personnel, improve clinical outcomes, and increase the quality of life for patients and users.
During the year, three acquisitions were completed for the Medtech business area. At the beginning of the year, we completed the acquisition of the Spanish company MBA Incorporado S.L, a leading independent player in orthopedic and emergency surgery with operations in Spain, Portugal, and Italy. During the year, the business within advanced surgery developed well, and the company also introduced a new product group within neurosurgery.
In March, we completed the acquisition of Telia Health Monitoring, which develops and delivers a digital platform solution that enables self-monitoring for patients with chronic diseases such as heart failure, high blood pressure, COPD, diabetes, and IBD. The business has been integrated into the subsidiary Camanio and is now called Camanio Health. The service launch has begun, and it is in an early commercial phase, while we continue to invest in its functionality.
Our largest acquisition in 2021, Healthcare 21, has completed an additional acquisition during the year; the Irish company O'Flynn Medical. O'Flynn is an independent specialist distributor that offers sales and rental of products and technical services to the hospital sector, private customers, and nursing homes in Ireland.

Qualified services help healthcare increase efficiency
Healthcare systems in large parts of Europe suffer from a lack of personnel, which means that the waiting lists of patients needing surgical procedures are long. A gradual reduction in the waiting lists is expected over a longer period of time as the number of surgical procedures increases gradually. Increasing the number of surgical procedures while managing a shortage of personnel will place high demands on healthcare systems.
In this situation, the value of being able to offer training in specific surgical methods and support during surgical procedures becomes even more valuable. Combined with this, high efficiency, speed, and reliability in deliveries become increasingly important. AddLife's Spanish company MBA Surgical Empowerment has a highly qualified and experienced team of salespeople and product specialists who can offer training and support in operating rooms. With the help of an advanced logistics system and warehouses in five strategically selected locations, delivery to MBA's customers in all markets can always be guaranteed within 24 hours. MBA also offers a loan program designed to make equipment that may be needed in emergency cases available to hospitals. With timely deliveries together with specialized support in operating rooms, MBA is committed to supporting healthcare systems in reducing patient waiting lists.

Digital solutions provide efficiency combined with improved quality of life
Digitization is an important tool that can help healthcare systems address the challenges posed by an aging population combined with staff shortages. In the field of home healthcare, AddLife is building a unique portfolio of products and services to enable a growing proportion of elderly and chronically ill people to stay at home to a greater extent and reduce their dependence on hospital care and home care services, while maintaining a good quality of life and high safety.
Camanio's remote paitent monitoring solution has been a leader in the Swedish market since 2015 and targets a range of patient groups, including heart failure, high blood pressure, COPD, diabetes, IBD, and maternity care. The patient registers their pulse, blood pressure, oxygen saturation, blood sugar, and several other diagnostic tests, which are then shared with the healthcare provider. Through the maternity care solution, Camanio offers greater safety and convenience for women who need extra follow-up during their pregnancy. The solution provides support for care plans and the possibility of remote routine checks. The midwife monitors the updates via the healthcare portal and can chat, adjust treatment, or book a physical follow-up visit if necessary. The technology provides greater safety, reduces the risk of complications, emergency visits, and unplanned admissions. Camanio is an exciting growth opportunity for AddLife through its digital offering, which simplifies processes, reduces costs, and better utilizes resources for healthcare, as well as improving quality of life for patients and users.
MEDTECH'S STRENGTHS
Employees with extensive medical experience, local knowledge and a high level of service, as well as product developers in welfare technology

Broad range including both in-house developed products and products from other manufacturers

Great flexibility regarding customised solutions, as well as cutting edge expertise in public procurement procedures

European distribution and service network for the Group's own products and services, as well as the products and services of other suppliers
MEDTECH'S PRODUCT SEGMENTS
Intensive care

Endoscopy

Interventional radiology

Surgery

Ophthalmology

Orthopaedics

Respiration

Wound care

Welfare technology

Assistive devices for kitchen and bathroom
Assistive technology for disabled children
 
Latest updated: 3/29/2023 10:13:10 PM by sophia.dernulf@add.life