COMMENTS BY THE CEO
AddLife has strengthened its position during 2022 and ends the year in a positive trend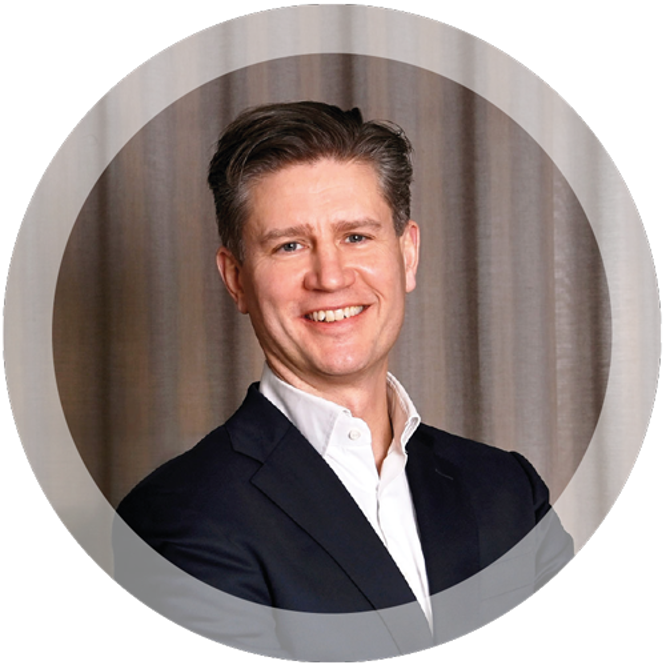 AddLife ended the year with strengthened positions in the market and in a positive trend. During the year, acquisitions contributed strongly to growth and organic growth also increased in both business areas during the fourth quarter. The company delivered stable cash flow during the year. Profitability improved in the Medtech business area, which, unlike our other business area Labtech did not have major positive effects from the pandemic in the previous year. AddLife is well positioned for the market situation after the pandemic and our companies will be able to meet increasing demand in growing segments such as planned surgery, diagnostics, research and development in cell biology, as well as home care.
Leading European player with attractive positions in a stable and growing market
In recent years, AddLife has developed from a Nordic company in a few niches to a leading European player with operations in about 30 countries. The business model continues to be based on taking leading positions in selected niches. Today, we operate in a larger number of niches and geographical markets, which provides additional stability and growth potential. Market growth is good in our selected niches, driven by long-term societal trends such as an aging population and new and more efficient technologies. The market position, combined with close and long-term customer relationships, provides stable and growing demand that is relatively unaffected by economic developments and other external factors.
Companies well positioned for the market situation post pandemic
Our companies have demonstrated agility and action orientation during the pandemic and have been able to help customers meet a very high demand for COVID-19 related products while also managing significant challenges in the supply chain. The companies have proven themselves as reliable suppliers and partners during challenging times, and customer relationships have thus been strengthened. Significant additional volumes have been handled in the existing organization, which has been positive for margins but also shows capacity for future growth.
During 2022, we have been able to see the effects of the pandemic gradually diminish and at the end of the year, the healthcare  system has returned to more normal operations. With this normalization, the focus in healthcare shifts to elective surgery that has been postponed during the pandemic and where a healthcare backlog has been built up with many patients on waiting lists for surgical procedures. AddLife has made significant acquisitions in surgical market segments over the past two years, and at the end of 2022, we have now, as expected, seen a clear increase in demand for products related to these procedures. Healthcare systems in large parts of Europe are suffering from a shortage of personnel, which means that it will not be possible to eliminate the backlog in the short term, but the waiting lists are expected to gradually decrease over a longer period with a larger number of completed surgical procedures.
The shortage of personnel in healthcare increases interest in efficiency-enhancing products, services, digital solutions, and home care, also an area where AddLife has positioned itself for growing demand. The pandemic has also driven increased awareness of new technologies and a larger installed base of diagnostic instruments, which is expected to have a positive effect on demand.
Strengthened organization
With recent acquisitions, AddLife has gained access to many new growth opportunities and has also added new experienced and competent international teams in the different companies. In order to capture the potential for organic growth and profitability improvements, facilitating collaborations between the companies as well as making new acquisitions, AddLife has developed and strengthened the organization within the Medtech business area where the largest acquisitions have been completed. New leading roles have been filled by international and operationally experienced personnel from companies within the group, which is in line with our culture and entrepreneurial, decentralized model.
Acquisitions, strategy, and future
In 2022, AddLife completed five acquisitions, all of which are well aligned with our business model and culture. These acquisitions have further strengthened our position in niche segments with good growth prospects including surgery, homecare and biomedical & research. During the year, analysis and prioritization of segments and geographies for future acquisitions have also been carried out.
AddLife will continue to have a clear focus on profitable niches where the group has leading positions based on a strong product offering combined with value-creating service and, increasingly, digital solutions. AddLife's profit growth (EBITA) should in the long term amount to 15 percent per year, and this should be achieved through a combination of organic and acquired growth. Since AddLife was listed on the stock exchange, we have had an average profit growth of approximately 38 percent per year.
The highest priority in the short term is to capture  all the organic growth opportunities that have emerged with the recent acquisitions and to drive the activities implemented within the companies to increase profitability and cash flow. An important goal is to reduce debt while working proactively and long-term to develop our pipeline of acquisition candidates in selected niches.
In line with AddLife's long-term and historically successful model, the focus is mainly on making smaller or medium-sized acquisitions that can be added to existing operations and platforms that have recently been acquired. We have a positive view of the opportunities for attractive acquisitions in the future as valuations have generally gone down due to prevailing market conditions.
Business model and culture
The agility and ability to adapt to customer needs and market conditions that the companies within AddLife have always shown is proof of the strength of our business model and decentralized culture.
AddLife's business model and decentralized culture combine the strength of a large company with the commitment and business acumen of our local companies' employees. The parent company is an active owner, and the subsidiaries are responsible for their own business operations within the framework of the goals defined by the group for growth, profitability, and sustainable development.
Our business model and unique culture have been success factors that sets us apart from other companies for a long time. We will maintain and build on this unique strength.
Summary
During the pandemic years, AddLife made profits that we used to strengthen our positions in profitable niches through acquisitions. AddLife is now very well positioned for the post pandemic market situation and the outlook is very promising. 
During 2022, the companies within the AddLife group have done a fantastic job, adapted to changing market conditions, and constantly strengthened and developed their customer offerings and relationships. I want to thank all employees for their valuable contributions during the year and congratulate the companies on their great results. The positive trend during the year is further proof of our decentralized business model with delegated responsibility and strong customer relationships. AddLife can summarize a positive 2022 with good acquired and organic growth and enters 2023 as an even stronger company.
Stocholm, March 2023

Fredrik Dalborg
President and CEO
Latest updated: 3/29/2023 9:59:01 PM by sophia.dernulf@add.life