AddLife Academy
Competence development and corporate culture
AddLife's most important resource is its employees, and through our academy, AddLife Academy, we ensure their development and establish a common culture. The academy is central to our success and ensures a focus on our financial goals.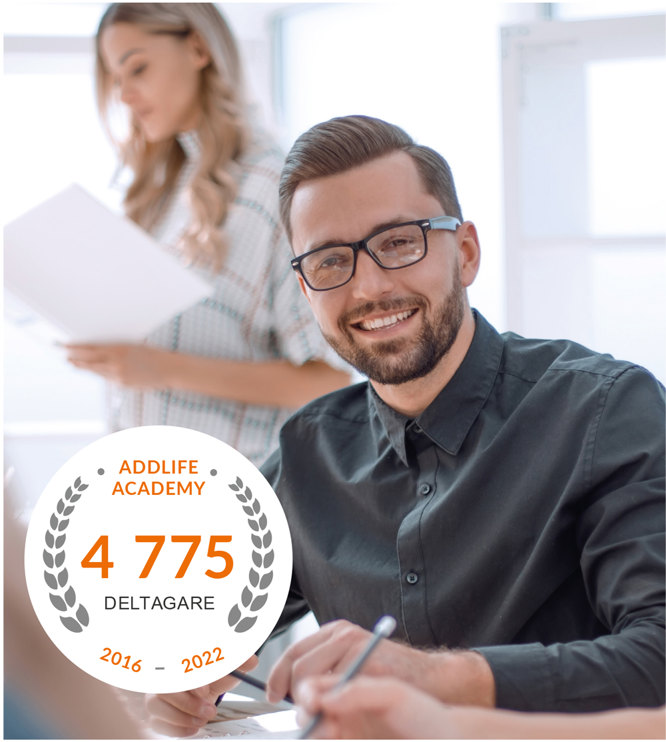 In 2022, 1,550 employees participated in instructor-led training within AddLife Academy. The average training time per employee was 7 hours, excluding local training in each company. Among other things, we have trained 115 leaders through our leadership program and 225 salespeople have participated in our sales training. Since its inception in 2016, 4,775 employees have participated in AddLife Academy.
The foundation of AddLife Academy is "Vision & Corporate Philosophy", a standardized training that all our employees, regardless of role, participate in. The course provides an introduction to AddLife, our common values, our code of conduct, and the basic requirements for growth, profitability, and sustainable development.
AddLife Academy also offers niche training for different roles, where we offer tools and knowledge exchange to support our employees' development and success. These are carried out with colleagues from across the group and also aim to build networks and share knowledge and experiences:
Leadership program
Effective sales 1
Effective sales 2
Soft selling

Negotiating skills
Public procurement
Digital customer meetings
Presentation skills
AddLife Academy also carries out customized projects based on the companies' needs. Examples of projects in 2022 include customer service training and coaching of management teams. The academy is also a flexible tool for AddLife with the aim of responding to changes in the external environment. During the year, 550 salespeople participated in training on pricing to address risks in a market with significant disruptions in supply chains. In finance, marketing, and HR, we have also held conferences where we gather employees from across the group with a focus on developing their respective roles and utilizing the strength within the group. We have also established cross-group networks within these groups to strengthen collaboration and knowledge exchange between the companies.
The combination of standardized and customized training provides a unique added value. In addition to these corporate training programs within AddLife Academy, most subsidiaries also offer local training for employees based on their business context. In the last quarter of 2022, AddLife implemented a digital training platform (Learning Management System "LMS"). In the future, we intend to use a combination of e-learning, digital seminars, and physical training to increase the offering and thus the total learning. In 2023, we will increase the focus on common and faster learning and also establish more networks for different roles.
Latest updated: 3/30/2023 11:11:29 AM by jamilah.wass@add.life